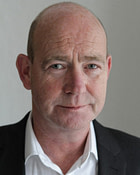 Since leaving drama school, Richard has had a varied career in theatre and television. For most of the last ten years he has been travelling the world playing the part of Dad in GEORGE'S MARVELLOUS MEDICINE for Birmingham Stage Company.
Richard has been involved in many repertory seasons and national tours where his favourite roles include: Reg in TABLE MANNERS, Bottom in A MIDSUMMER NIGHT'S DREAM, Milo Tindle in SLEUTH, Dr Armstrong in AND THEN THERE WERE NONE, Brassett in CHARLEY'S AUNT, John Barrett in DANGEROUS OBSESSION, Lawrence in ABIGAIL'S PARTY and Bernard in DON'T DRESS FOR DINNER.
He also appeared in the world premiere of IT'S RAINING MEN where his characters included Edith Piaf, Liza Minnelli and Barbra Streisand.
He was last seen on your television screens as hapless estate agent Aubrey Bedford in Yorkshire Televisions EMMERDALE where he only managed to sell one house in eleven years!
Richard has appeared in eighteen pantomimes, including two wonderful seasons with the late great comic actor John Inman. Television credits include the above-mentioned Aubrey Bedford in EMMERDALE, a very concerned Doctor in CORONATION STREET, a not very tough security guard in DOCTORS and Max Newman in BBC's INVENTORS THROUGHOUT HISTORY.
He lives less than a mile from beautiful Bournemouth beach.
Twenty-eight years ago, almost to the week, he first acted opposite our lovely producer Vernon Thompson. Where have the years gone?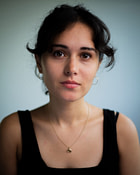 Jessica Olim is from London and a graduate from City Lit Drama School. Her credits include: Blue Stockings; Her Naked Skin and 'The Winter's Tale' all at the John Lyon Theatre, Covent Garden;  The Future Miss Smith (Bedlamb Theatre), Killing Donald (Vagabond Theatre) at Stockwell Playhouse and Skin (Moving Culture Film Productions). 
She is fluent in Spanish and Portuguese, and plays Countdown for fun. She is very excited to be joining the London Repertory Players for a second season, having made her debut in Private Lives and 'House Guest' last year.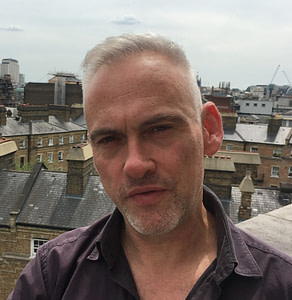 Vernon is delighted to bring this production to the historic town of Wimborne Minster, having staged four successful seasons of summer repertory at the Shelley Theatre in Bournemouth pre-pandemic! At Christmas he will direct Animal Farm at the John Lyon Theatre in London; past productions there include The Laramie Project and Cause Celebre. In 2019 he took  his production of The Wily Widow to Teatro Franco Parenti in Milan following an earlier successful run at Hen and Chickens Theatre in Islington. He works for Channel 4 News in London and TRT World in Istanbul as a voice consultant to their broadcasters and journalists, and private clients include a broadcaster for Sky News, a financial adviser and a psychotherapist! www.vernonthompson.co.uk
He heads up voice, speech and communication courses at City Lit in London, the UK's largest adult education institution, as well as managing its accredited acting training programme. He hopes you enjoy the performance!
Su Gilroy is a freelance theatre director with more than 50 productions to her credit, from short rehearsed readings to full scale productions in number one venues. She enjoys the diversity of projects that this means she get to work on, including new writing, classics and panto.  She is thrilled to be joining the London Repertory Players as she loves working in rep. She spent five summers at the Manor Pavilion Theatre Sidmouth and directed 20 plays in rep, including JB Priestley's An Inspector Calls, September Tide by Daphne Du Maurier, The Unexpected Guest by Agatha Christie, several Alan Ayckbourn plays, and The Gentle Hook and Deadly Nightcap by Francis Durbridge. She also directed four plays in rep at the Wolverhampton Grand Theatre including Gaslight by Patrick Hamilton.
Other directing work includes many new writing pieces, in London and at the Brighton fringe, and several youth productions, in this country and in America. She was Assistant Director on Cinderella at the Lyceum Theatre in Crewe and on several pantomimes and Shakespeare productions for Bitesize Theatre Company.
She has extensive theatre knowledge, having worked in nearly all theatre departments including on-stage, back-stage and front of house, and she has an MA in Theatre and Performance Studies from the University of Manchester, through Rose Bruford College.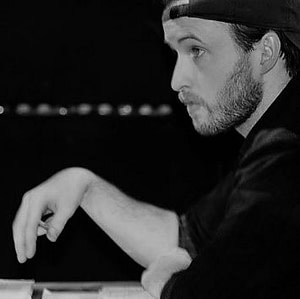 Jordan has worked as Assistant Director on Vernon's production of 'The Laramie Project' this year as well as Deputy Stage Manager on 'Blue Stockings' and as Assistant Stage Manager on 'Her Naked Skin', all at the John Lyon Theatre, London. Jordan also works as a sound and light designer in theatre at various venues throughout London. He is currently working on several short films as an Assistant Producer and 2nd Assistant Director, alongside writing his first play which he hopes to have up and running by the end of this year. In the meantime, he is looking forward to a summer by the seaside, with the hopes of some surf worthy waves!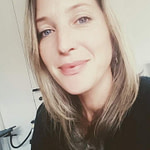 Debbie is a pianist, peripatetic music teacher and freelance artist based in Christchurch, Dorset. Her murals and trompe l'oeils have been installed at residential and commercial projects in Dorset and surrounding areas, from creating serene landscapes for day rooms in care homes, to the theming and design of children's areas and public venues. She also freelances as an illustrator and portrait artist and during the summer months exhibits at Mudeford Arts Festival and other local events, creating live portraits in the living arts marquee. Her work can be viewed at www.highfivecreative.co.uk.
Debbie has also been teaching music and has had some involvement in local theatre groups as a rehearsal pianist, and as such became a huge fan of theatre productions.
She is very much looking forward to the summer with the London Repertory Players at the Tivoli Theatre and most excited to be invited to create the sets for the company.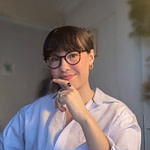 Since graduating from her masters in Theatre Studies in 2020 Sophy has tried her hand at a number of roles in both theatre and film; from front-of-house to facilitating drama workshops with young people.
She first discovered the joys of stage management last year via City Lit taking on the roles of Assistant Stage Manager for Red Flag, Blue Beard and Deputy Stage Manager for Animal Farm, where she first collaborated with Vernon. She is excited to now take on her first professional role with Vernon's LRP and is looking forward to a sunny Summer in Bournemouth.